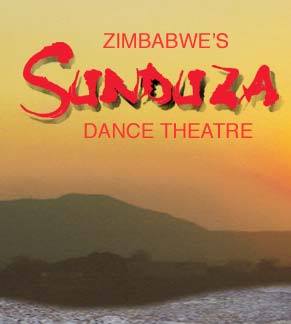 Sunduza Dance Theatre is based in Bulawayo Zimbabwe. Sunduza were formed in 1985 and have been performing for over 37 years . There was a ten year gap in touring when our original artistic directors were based in the UK as the economy in Zimbabwe struggled.
Sunduza were led originally by Simon Banda as composer and creative director supported by Mandla Sibanda and Elijah Mbambo. Sadly Simon and Mandla both passed away in 2012 following a ten year successful education residency in Yorkshire. Their successful touring productions have been revived under the artistic directuon of composer Charlie Banda(Simon's son) and Mkhululi Khanye(choreographer) and Lyndah Sithole (poet actor and known as Sonkomose). Long serving members include Baphi Mdladla and Khalipani Ndlovu.
Some of the original cast and members remain active since 1992. The producer/manager is Philip Weiss who contributed significantly to the production values and story based scripts.
Productions:
These are cyclical available to touring theatres and schools alongside workshops. each lasts one hour.
Injabulo is the junior dance harmony production for families. A young musician goes to find work in Johannesburg and initially has to try his luck as a mine worker. In his dream he dreams of becoming a famous musician visited by various spirits. It has been seen extensivel;y in the UK including WOMAD, Edinburgh, South Bank folk week, as well as Canadian Childrens Festivals and the Singapore International Festival of Arts.
the Adventures of Robert Moffat (Matata)
Explores the life in the townships and reflects on how history has shaped the problems. It is based on reflections from the diaries of Scottish Missionary Robert Moffat(National Archives of Zimbabwe). He recorded his meetings with Mzilikazi tat are brought to life through music and dance. The show has travelled to Glastonbury, Edinburgh Festival fringe and others. Most recently it was revived at Bulawayo theatre and at the National Arts Festival in Grahamstown, Makhanda Eastern cape.
Voices from the Rocks-the Story of the Matopos
Based on the book of a similar title by the late Professor Terry Ranger-emeritus professor of history at Oxford University. This book which researched many oral accounts of the people in the Matopos region helps reveal a complex story of the land as it became a National Park. Most recently it travelled pre-covid to the National Arts Festival in Grahamstown(Makhanda), Eastern Cape. and saw a revival in. Bulawayo
The Other Cecil
The latest production also involves beautiful masks. Its not just about the tragic story of cecil the Lion shot in 2015. rather its an exploration of the symbolic power of the lion, its importance in the environment and how different communities interact with the ecosystem lions inhabit. It is set to powerful music and dance both a cappella style and studio based instrumental recordings from the group.
African Sanctus(David Fanshawe)
Its over twenty years since the group were invited to develop a dance intertpretation of this famous choral work . It was performed in Sheffield alongside the Sheffield Oratorio Chorus after a year of development work to a massive intergenerational audience. The warm up included Firth Park School (a performing arts college) dance refelction